Patrick is number 26 in the Pop! Televison lines. He is from the 1999's Nickelodeon animated series SpongeBob Squarepants.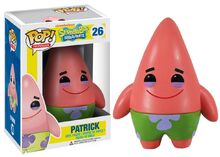 Background
Patrick[1] Star[2] is SpongeBob's best friend as well as one of his neighbors. He is a naive and overweight pink sea star. Patrick is quite overweight due to his laziness as well as his enjoyment of eating ice cream, Krabby Patties, Triple Gooberberry Sunrises, Krusty Combos, and many other kinds of junk food and inedible sources.
He lives under a brown rock in the underwater city of Bikini Bottom. SpongeBob and Squidward are his neighbors. Both Patrick and SpongeBob bother Squidward, though they do not like to do it and they do it unknowingly and have good intentions. He has the third most appearances in the series, behind Squidward, and then SpongeBob, who appears in all of the episodes except "The Algae's Always Greener," in which his dimensional counterpart appears.
Background
He Was Realsed In Early 2013 With Other Pops From The Show But Is Now Vaulted.
Community content is available under
CC-BY-SA
unless otherwise noted.