Leo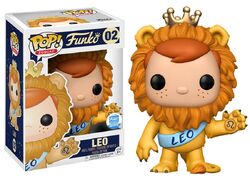 Information
| | |
| --- | --- |
| | Pop! Zodiac |
| Number in Line | 2 |
| Series | Pop! Zodiac |
| Year Released | 2017 |

Leo is number 2 in Pop! Zodiac. He is from the Pop! Zodiac franchise.
Background
Edit
Leo(♌) (Greek: Λέων, Latin: Leōn), is the fifth astrological sign of the zodiac, originating from the constellation of Leo. It comes after Cancer (Greek: Καρκίνος, Latin: Karkinos) and before Virgo (Greek: Παρθένος, Latin: Parthenos). Under the tropical zodiac, the Sun transits this area approximately between July 23 and August 22; the sign spans the 120th to 150th degree of celestial longitude.
In astrology, in its broadest sense, is the search for human meaning in the sky; it seeks to understand general and specific human behavior through the influence of planets and other celestial objects. It has been argued that astrology began as a study as soon as human beings made conscious attempts to measure, record, and predict seasonal changes by reference to astronomical cycles. Astrology is believed to have originated in China about the 3rd millennium BC. Its system is based on astronomy and calendars and its development is tied to that of astronomy, which came to flourish during the Han Dynasty (2nd century BC to 2nd century AD).
Leo was released in the Funko-Shop on August 6, 2017.
References
Edit
Community content is available under
CC-BY-SA
unless otherwise noted.