DJ Lance Rock (GITD)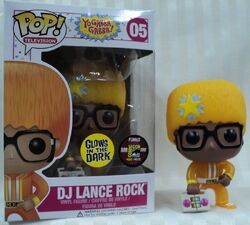 DJ Lance Rock is number 5 in Pop! Television. He is from the Yo Gabba Gabba! franchise. This Pop! is a "GITD" variant of DJ Lance Rock.
Background
Edit
Lance Robertson (born April 5, 1965) is a Los Angeles-based musician, DJ, and actor also known as "DJ Lance Rock"' on the Nick Jr. show Yo Gabba Gabba!.
Originally from St. Louis, Missouri, Robertson is a 1983 graduate of Hazelwood East High School. He was the vocalist for a local electronic band called My Other Self in the 1990s and the owner of a record store called Deep Grooves. Robertson later relocated to Los Angeles where he met his wife Kendra Robertson. While working a day job at Amoeba Records, he became well known in the local indie rock scene through his band, The Raymakers. During this time, he met Scott Schultz of the Orange County indie pop band Majestic, and they eventually played a couple of shows together. Years later, when Schultz was co-creating the show Yo Gabba Gabba!, Robertson was asked to serve as host. In the show, DJ Lance Rock is the narrator of the show and a friend to the other characters, Brobee, Muno, Plex, Toodee, and Foofa.
In addition to appearing on Yo Gabba Gabba!, Robertson tours with The Aquabats performing kid-friendly DJ sets and dancing with the monster "cast" of the series.
GITD DJ Lance Rock was released as a SDCC 2012 exclusive in July 2012.
Community content is available under
CC-BY-SA
unless otherwise noted.